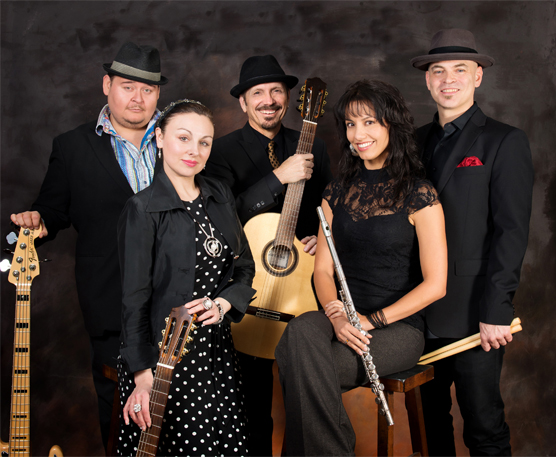 MOODAFARUKA
Moodafaruka - Mood of The Dance A "faruka" (farruca) is a flamenco style of dance. We've combined it with the word mood, to create a new word that means mood of the dance. (We hope one day Webster's will agree with us).
In 1999 Moodafaruka recorded their first CD - "La Luna Lounge." Rom Ryan and Percussionist Terrence Karn were the only members of Moodafaruka at that time. Terrence has since moved on to teach and perform throughout the United States. The CD received rave reviews and excellent radio play around the globe and has sold thousands of copies!
Since then driven by Rom Ryan's composition, and the talents of some of Houston's finest musicians we have released 4 more cds. "Zazu" in 2002 and in 2004 "Blame it on the Moon". We currently have a compilation released on MegaWave Records entitled "Essential Moodafaruka" as of June 6th, 2008 it was number 2 on the Jazz/World Music Charts receiving airplay throughout the country. We released Who R U in the fall of 2009. All of our music can be found on ITunes.
Moodafaruka is a collective of musicians, but has at its core the talents of world renowned teaching violinist Mary Ann Willis she now has 10 books published on gypsy/ world violin. Guitarist Vocalist Edita Rozenberg whose inspiring rhythms have brought out the best in our compositions, she is a world class singer performer and adds some sizzle to any concert or event. Vocalist/ Flutist / Dancer Alesha Herrera leaves us asking what she can't do. She sings in English, Spanish, and Arabic and brings a wonderful energy to any place she performs. Keyboard Bassist Richard Saldivar is a multi-instrumentalist born into a family of musicians the apple didn't fall far from the tree. He has played with some of the finest bands in the country and we're please to call him one of us. Percussionist Ilya Janos rounds things out with his unique slant on percussion, he has studied with some of the best percussionists in the world and it shows in his relaxed in the pocket style of playing.
At the heart of Moodafaruka is it's founder Rom Ryan as composer, promoter, producer, engineer, booking agent, and head roady, he has kept Moodafaruka moving forward, and turned a dream into a tangible living musical enterprise.
For more information about the band please CLICK HERE